Modern times have seen the rise of metal as a prime exterior material, largely due to its rugged durability, design versatility, and aesthetic possibilities. However, for all its bravado and beauty, metal tends to be superficially weak, and is generally available in but a single color. Thus, in order to be both functional and pleasing to the eye, metal must be coated with a unique finish which beautifies with color and resists any chalking, pitting, chipping, or premature aging.
Noted by architects around the world Kynar 500® PVDF resin-based coatings is precisely the product neccessary to provide such protection and preservation to aluminum, galvanized steel, and aluminized steel. No other coating system withstands the rigors of nature and time like those based on Kynar 500® resins. This high-performance fluoropolymer resin, with its extraordinary capability to retain color and gloss, keeps painted metal looking vibrant and appealing.
Kynar 500 resin-based finishes are available worldwide through a strict licensing program. This licensed distribution ensures the quality, consistency and high performance of Kynar 500® resin-based coatings
Kynar 500 Color Chart: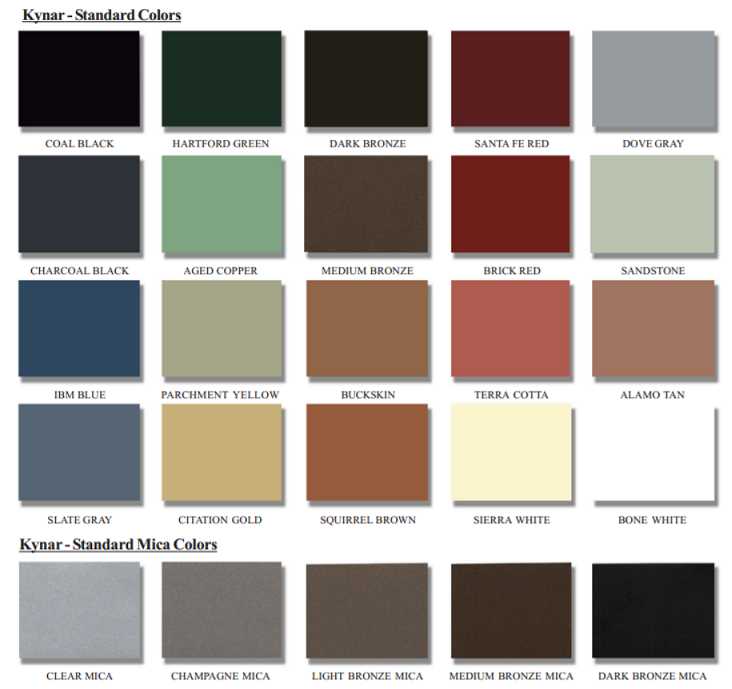 The following images represent paint failures of powder coatings over non-chrome pre-treated aluminum railings on seacoast environments.  Click Kynar vs. Powder to read about the benefits of Kynar vs. Powder Coatings.  Click on any of the images below for a larger view.
Click here to visit Windsor Metal Finishing – Gelander Industries exclusive paint applicator and one of only two certified Kynar applicator's in the Southeast.
Kynar® is a registered trademark belonging to Arkema Inc.